Selena Quotes
"Although my Spanish is a little weak, I feel that I am Mexican and I'm proud of my roots."
-Selena (*NOTE: This quote was translated from Spanish
"If we got a hundred dollars a gig, we were like, whoa this is cool...but you have to take what you can get when you're first starting out."
-Selena on the early years of her career
"She had the most beautiful smile and the most incredible laugh." ~ Rebecca Lee Meza
Selena as a Baby ~ Isn't she Cute??

"I remember walking down the aisle, it was on a slant and I had this crystal beaded gown and I remember thinking "Gee, Selena if you fall you are going to be so embarrassed. Don't fall!"
-Selena on winning the Grammy for best Mexican American album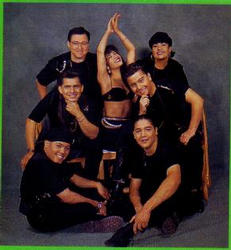 Selena Y Los Dinos
She had that incredible talent. I saw it right away. Even if no one knew it but me!"
-Abraham Quintanilla Jr
"That was always her dream. What people don't understand is that we grew up singing English music."
-A.B. Quintanilla on the release of "Dreaming Of You"
"I saw the smile on her face when she got a chance to track the English songs and it was like 'Wow, we're finally doing it!"
-Chris Perez
"And I'd like to thank my husband. I love you. Happy...*crowd boos* Wait a minute, wait a minute, if I was married to one of y'all you wouldn't be booing, right?"
-Selena, accepting a Tejano music award/joking with her fans
"And I know that she's smiling down on us."
-Jose Behar, President of EMI Latin